You've chosen the perfect foundation shade. That blush color will make your cheeks pop. You want to practice your contouring skills. Now all you need is the right makeup application brush. Which brush and technique will get the job done better? How do you choose between a buffing brush vs stippling brush for your foundation? Is there really a difference between the two?
Hi beautiful! Just to let you know, we earn a modest commission off of purchases made through Amazon affiliate links on this page. Don't worry, it's of no extra cost to you. We love the products we recommend in this post, and we hope you do, too!
Let's find out.
Table of Contents
Why Do You Need A Buffing Brush Or A Stippling Brush?
Applying makeup takes a bit of knowledge, the right tools, and a lot of practice.
You can get inspiration for a variety of beautiful makeup looks from magazines, movies and even people you know. The one thing they probably all have in common is they understand the importance of blending!
Blend, blend, and blend some more.
That's why your choice between a buffing or stippling brush is important. The right blending tool can make your makeup seem as if it has melted into your skin instead of sitting on top of it for the world to see. Blending helps you show off your gorgeous skin, not your foundation and blush. The more you blend, the more natural you look and the more professional your makeup appears.
Buffing Brush vs Stippling Brush
Differences
How do you determine whether a buffing brush or a stippling brush, if either, is better? Here are some major differences to help you decide.
Stippling brushes have 2 distinctive sets of bristles. The flexible long bristles on the outer part of the brush head is meant to apply product while the shorter and densely-packed inner bristles are for blending. The tightly-packed bristles of the buffing brush are of an even length giving the brush a blunt appearance.
Stippling brushes are ideal for covering blemishes and scars. They create a natural and flawless texture with the smallest amount of product so you can highlight your face and not your imperfections.
Stippling brushes work well with heavy cream foundations. The flexible brushes are good at picking up the slightest amount of product so you avoid applying too much and getting a cakey finish.
RELATED: Cream to powder foundation
If you're pressed for time or don't have a clean palette, you can apply your liquid foundations directly to a buffing brush.
Main differences: Buffing brush vs Stippling Brush
Stippling brush has two sets of bristles, buffing brush has one dense set.
The stippling brush is better for thin, streak-free coverage.
A stippling brush is better for covering imperfections.
Stippling brushes are better for thick foundations.
Similarities
While there are some differences between the two brushes, both brushes do a great job at blending your products. Both brushes will create a flawless finish with a thin and light texture and can be used to achieve layered coverage.
Both types of brushes can be used to apply any liquid, cream or powder foundation. If you use a foundation that is buildable to full coverage, both brushes will allow you to continue applying until you get the look you want. You can also use both brushes to blend and diffuse powder, cream or liquid blush, contour, highlighter and bronzer.
Both brushes come in a variety of lengths and shapes to help you reach small crevices. Both brushes are available in travel or mini versions and come in retractable styles.
Some Similarities:
Both brushes can create an airbrushed effect.
They are both are good for applying and blending liquid, cream and powder foundations.
These two brushes can be used to layer and build.
Both brushes are good for blending other face makeup.
Either are available in a variety of styles.
What Is A Buffing Brush?
A buffing brush is made from either durable synthetic or natural bristles that are densly packed together. Unlike domed-shaped face powder brushes, the even-length bristles give the brush its flat-top shape.
Some buffing brushes have small heads to make it easier to work around your eyes and nose area.
What Is A Buffing Brush Used For?
A buffing brush can apply, blend and smooth your makeup. Its flat head shape makes it the perfect tool for applying and blending liquids, creams or powders.
Its dense bristles make it versatile enough to be used with your primer, BB cream, CC cream, blush, bronzer, contour.
How Do I Use A Buffing Brush?
To get a seamless everyday look, start with a clean and moisturized face. Dry patches of skin can result in a blotchy appearance. It will be easier and more comfortable to spread your liquid foundation on moisturized skin.
For BB creams, CC creams and liquid foundations:

Apply a small amount of product to the back of your hand or directly to your face. Some products work best when warmed up first so be sure to follow the directions.
Using small circular motions, swirl the product in a downward motion, pushing the product into the skin.
Apply more if needed to get the desired coverage.

For cream and powder foundations:

Dip your brush lightly into the product.
Apply and blend in circular motions.

For powder blush, contour and bronzer:

First apply the product with the appropriate blush, contour or bronzing brush. These brushes are designed to apply product in small and specific areas of the face.
Use your buffing brush to soften the look and blend any harsh edges.
What Is A Stippling Brush?
In art, stippling refers to the act of covering a surface or creating a picture using dots. Stippling brushes are designed to dab or dot product onto the skin and blend those dots together to create a seamless picture. The more dots you apply and the closer the dots are to each other, the more flawless the finish.
The duo-fiber brush is sometimes referred to as the skunk brush because of its typical black and white bristles. The white bristles on the outer part of the head are longer, thinner and more flexible than the black bristles in the middle of the brush.
The tightly-packed shorter bristles in the middle push and blend the dots into the skin. The brush gives you the most impact with the smallest amount of product.
What Is A Stippling Brush Used For?
A stippling brush can apply, blend and give an air-brushed finish to your face. It's the brush to use if you want to conceal imperfections, minimize hyperpigmentation, and cover up acne and acne scars. This technique is ideal when you need a natural but flawless look.
It's especially best for looking your best for special events where you'll be photographed.
How Do I Use A Stippling Brush?
Whichever type of product you use, a foundation stippling brush allows you to use the smallest amount to get an air-brushed effect. Use it for any liquid, cream or powder foundation.
Focusing on the outer and thinner part of the brush head, dab the brush into the liquid product that you've put on the back of your hand or directly to your face, or dab directly into the cream or powder product.
Dot into areas of your face where you need it.
Using the denser brushes, lightly swirl the product in small circles.
Continue to press brush into product and swirl the brush until you get the desired look.
If your foundation is buildable, you can repeat as needed to achieve full coverage.
What Is The Best Stippling Brush?
Because stippling brushes can vary, the best stippling brush for you depends on how you will use it and your budget.
The larger and wider stippling brush are for the larger areas of your face. The thinner dome-shaped brush is perfect for reaching tight spaces around your nose and eyes.
Although price doesn't always necessarily dictate quality, you may be willing to spend more for an expensive brush with a stand-out reputation.
Lightweight and maneuverable, this brush can blend liquid, creams or powders in hard-to-reach places. The brush has 100% synthetic fibers, making it vegan and cruelty-free.
Buy on Amazon
Loved for years, MAC brushes are reliable and long-lasting. This brush consistently delivers a natural and flawless finish whether you use powder or liquid products.
Buy on Amazon
This brush is a breeze to use and blends foundations quickly. The 100% synthetic bristles are soft and easy to clean. The flat bottom means it can stand on its own.
To use, just dab the Real Techniques brush into your foundation, tap away any excess, and blend into your face using circular and outward motions.
Best Buffing Brush
If you want to have a go at buffing brushes, you certainly can, too. Buffing brushes have their own benefits, and they tend to be useful for applying other makeup apart from foundation, too.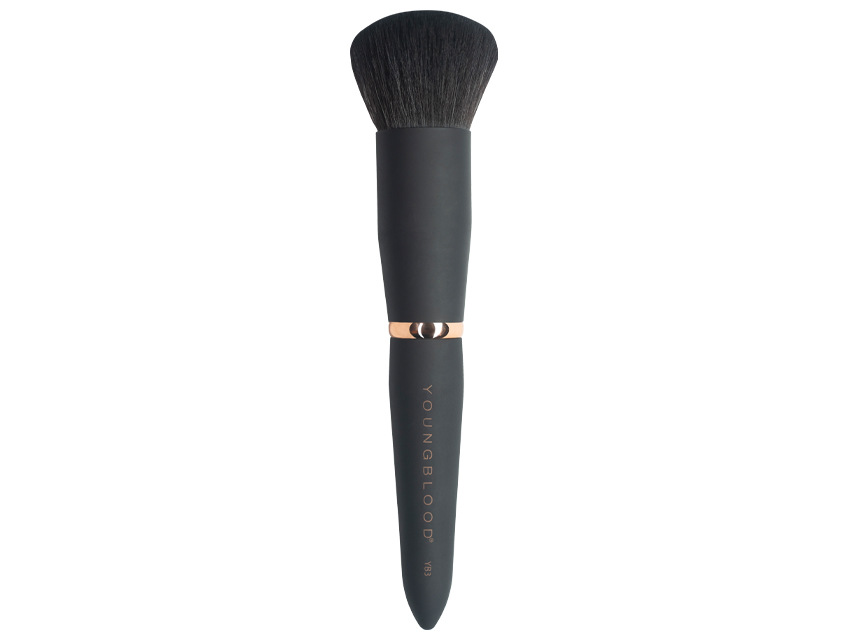 Apply liquid foundation flawlessly with this cruelty-free buffing brush. Achieve that desired airbrush finish with these professional quality synthetic bristles. Best suited for liquid makeup!
Buy on Amazon
NYX is a popular drugstore brand, and for good reason. They've got great makeup and tools that perform beyond the affordable price tag.
Looking to experiment with a buffing brush? Start with this one by NYX!
Buffing Brush vs Stippling Brush: A Summary
Whether you're new to the idea of blending or have been using this technique forever, a buffing brush or stippling brush can help you up your game. Try one or keep both in your arsenal. The unique features of each means you can use one for your everyday makeup and have the other for special functions and flawless pictures.
Related posts on our blog:
What's your side on the debate?