The Beauty Blender is a tool loved by both professional makeup artists and enthusiasts the world over. The teardrop-shaped sponge is a soft, plush tool that can be used to create a smooth and perfect foundation base. With its unique shape, it contours to the rises and dips of your face so that no area is left untouched.
Hi beautiful! Just to let you know, we earn a modest commission off of purchases made through Amazon affiliate links on this page. Don't worry, it's of no extra cost to you. We love the products we recommend in this post, and we hope you do, too!
Your beauty blender offers so many uses. Its consistent performance and ease of use shows why it is so often the go-to tool. It's a very popular choice for makeup enthusiasts and professionals alike, and for good reason.
Table of Contents
Shop on Amazon
However, like with everything, there are issues that may arise — things like black spots, otherwise known as mold. If you have ever gone into your kit and noticed black spots, you were probably very concerned, as you should be.
Black spots on your beauty blender can be avoided with a little knowledge about when and how to use a beauty sponge, as well as consistent upkeep. That is what we're going to look at today.
What do you do when you find black dots on beauty blender sponges? How do you get rid of black spots on your beauty blender?
But first, what does it mean when your beauty blender has black spots?
Your beauty blender is a porous tool that will absorb dirt and oil from your face over time. Every time the sponge makes its way to your face, it is picking up these mold triggers.
This is why making sure you have and use a regular cleaning process is so important.
The bacteria that comes from the dirt and oil on your face, as well as the air that surrounds you every day, can build up. These things make your sponge a breeding ground for unwanted bacteria.
Though there are many tools out there, such as brushes for liquid foundations, that don't have to deal with this as much, don't let this deter you from experiencing the joy of a good beauty blender.
Now, to answer that burning question: can I still use a moldy beauty blender?
Is It Bad to Use My Beauty Blender With Spots?
These black spots on your beauty blender are mold. That means they are naturally unhygienic.
This means that it is not a good idea to use them anywhere, especially on your face.
In fact, there are some that even fear that there is unseen mold growing inside your beauty blender from improper drying.
The best way to ensure that you don't have to throw out your beauty blender is to utilize a strict cleaning regimen.
But, even with that, you may experience these black spots.
So, can you get rid of them? What can you do to prevent growth of mold on beauty blender sponges?
How Do I Get Rid of the Black Spots on My Beauty Blender?
This beauty blender mold is no different than any other mold and can be dealt with in the same manner.
As we have said, the key to preventing mold is to know how to clean the beauty blender, so let's take a look at how to clean my beauty blender:
Mix hot water and soap
Let the sponges soak in the water for a few days
If you don't see any change after a few days, then you may want to use white vinegar
Use your fingers to rub the liquid through. You may have a problem getting rid of the mold, but the spores will have been dealt with.
Make sure to let them dry completely, and some even suggest running them through the dryer for a short cycle
After all that, if the mold still hasn't been dealt with, it may just be time to get a new batch
A makeup sponge cleanser can also be the way to go, both to clean your sponge and to remove the dirt and spots on it. Beauty Blender has their own cleansers, in liquid form and solid form.
You can also use them to clean your other brushes!
Liquid Blender Cleanser by Beauty Blender
Shop on Amazon
Blender Cleanser Solid by Beauty Blender
Buy on Amazon
If you want to try other tool cleaning products, check out any of the ones below:
Product prices and availability are accurate as of the date/time indicated and are subject to change. Any price and availability information displayed on [relevant Amazon Site(s), as applicable] at the time of purchase will apply to the purchase of this product.
Prices pulled from the Amazon Product Advertising API on:
How Do I Clean My Beauty Blender Properly? Tips and Techniques for how to get rid of mold on Beauty Blender
No matter if you use liquid foundation or powder foundation, brushes or sponges, you will want to make sure your makeup tools are always clean. This is, as we have been saying, especially important when dealing with porous tools like a beauty blender.
So, here are some more steps you can use:
You will want to start by getting your beauty blender wet.
Once that's done, take either a beauty blender cleaner or soap and add that to the blender. It is crucial that you let the blender soak in the water and soap while working the soap to a good lather.
Rub the beauty blender gently, as you don't want to ruin or snag the sponge.
Once you have worked out all the dirt, rinse the sponge with clean water.
Make sure to squeeze out as much water as you can and then let it dry in a well-ventilated room.
This should keep you from having to deal with those black spots on your beauty blender.
Just in case, here are some amazing hacks you can use, as well.
In order to get more use out of your beauty blender and to keep a good eye on the inside area, cut your beauty blender in half.
You may want to do a two-phase cleaning once a month just for good measure.
Make sure you pack your beauty blender properly. Stay away from plastic bags.
Try using the beauty blender packaging as your stand for drying. This will keep it off of surfaces that may be home for more bacteria.
You can soak your beauty blender overnight to get out tough stains.
Finding the right technique for you and your makeup regimen is vital to keeping you from experiencing unwanted breakouts and irritations, as well as keeping your kit budget-friendly.
So, just take that extra time — we promise you won't regret it!
Don't hesitate to try the amazing beauty blender now:
Shop on Amazon
Clean your tools!
These black spots on your beauty blender are consequences of not cleaning these cosmetic tools properly. No matter the tool, even synthetic ones like the oval brushes for makeup, you need to clean them after use. It's also important to arrange them properly, such as in their own container or professional makeup brush case.
By not using the right cleaner or letting them dry thoroughly, those sponges have become a playground for bacteria and mold.
Learning and using the hacks and techniques above, you should be able to stop this from ever happening to you.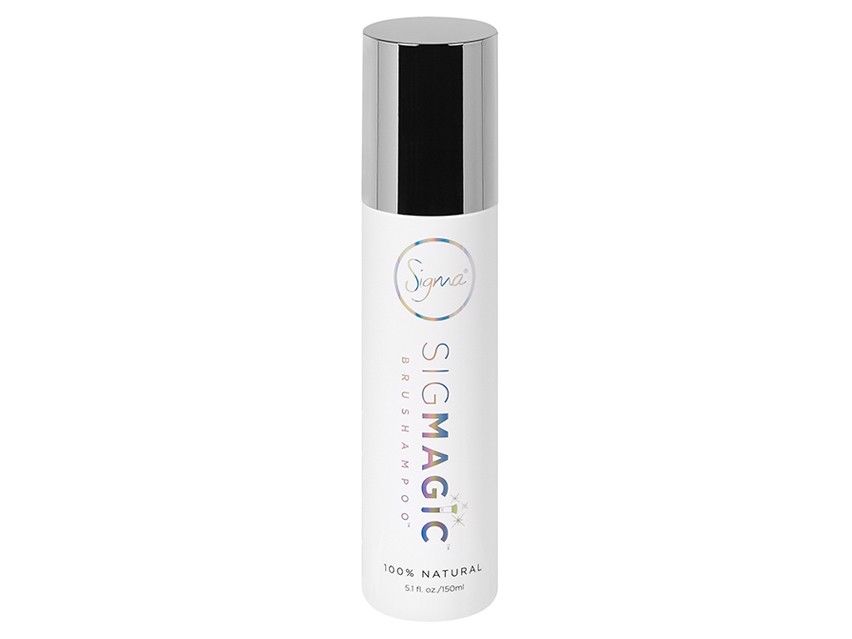 Sigma Beauty SigMagic Brushampoo Liquid Brush Cleaner
If you're looking for a beauty blender alternative, why not consider silicone makeup sponges to use?
Ever found black spots on your beauty blender? How did you get rid of them? What are your cleaning tips?