Every makeup wearer knows the struggle of choosing between a liquid and a powder foundation. Most of the time we think, 'what's the difference?' They more or less serve the same purpose. So then, if you don't want to choose between them, can you use both liquid and powder foundation together?
Hi beautiful! Just to let you know, we earn a modest commission off of purchases made through Amazon affiliate links on this page. Don't worry, it's of no extra cost to you. We love the products we recommend in this post, and we hope you do, too!
Table of Contents
Even though liquid foundations and powder foundations have different formulations and chemical properties, they can, nonetheless, be used together.
Some people have a combination of different skin types, which makes it harder for them to choose a single product.
This is where mixing things up can come in handy.
We've weighed in previously on liquid vs powder foundation, and did a comparison of liquid vs powder foundation for mature skin as well.
Now let's take a look at using them together, as well as some tips and tricks for wearing both foundations..
Why Use Liquid Foundation?
The most common type of foundation used by women all around the world is a liquid foundation.
Why?
It suits almost all skin types, as it comes in tons of different formulations, and it gives a generally better finish than powder or cream.
It comes in a wide array of colors, textures, and types, so literally anyone can use them. Liquids are great for hydrating, and they give a better and fuller coverage.
Benefits of Using Liquid Foundation
Want a flawless full-coverage look? Then opt for a good liquid foundation because:
It is great for mature and drier skin, as it is more blendable and spreads easily across the face
It is easier to work with, as many beauty tools also come in handy with liquid foundation (Visit our post on what brushes are best used for liquid foundation)
Gives off a matte finish, and you only need to apply it once or twice
Can provide an extra layer of protection and can moisturize in dry and cold weather
It fills in wrinkles, fine lines, even out skin tone, and conceal breakouts and dark spots better than powder and cream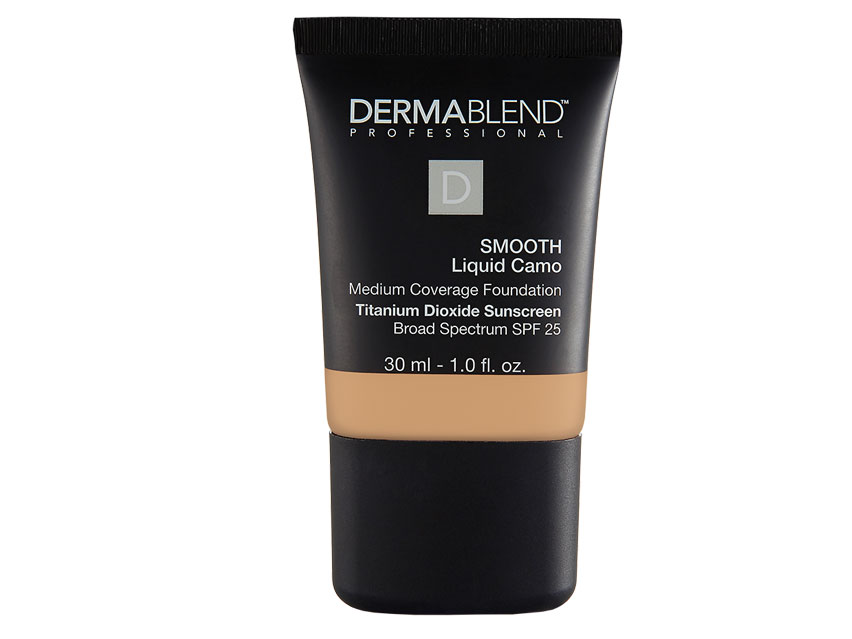 Dermablend Smooth Liquid Camo Foundation – Choose your shade
Why Use Powder Foundation?
When discussing the topic of how to layer foundation for full coverage, the dilemma between using powder or liquid foundation is inevitable.
However, using powder foundation has its own perks, as many skin types find powder to be more favorable for a finished look.
So, can you set makeup with a powder foundation? Why not!
There are many benefits of using powder foundation, and you can also check our post on best drugstore powder foundations reviews.
Benefits of Using Powder Foundation
It is ideal for oily skin types, as well as those prone to acne and breakouts
A favorable choice for those with large pores, as it doesn't clog them and doesn't sit heavily on the face like liquid foundation
Gives a more natural look with sheer coverage, while its oil-absorbing properties don't let oil sit on the skin
It can be reapplied multiple times easily without looking cakey, and it's also a very convenient option for warm weather
Product prices and availability are accurate as of the date/time indicated and are subject to change. Any price and availability information displayed on [relevant Amazon Site(s), as applicable] at the time of purchase will apply to the purchase of this product.
Prices pulled from the Amazon Product Advertising API on:
What is the Best Way To Use Liquid and Powder Foundation Together?
Can you use both liquid and powder foundation?
You totally can! It sounds odd, but not impossible.
Each type of foundation has its pros and cons, and it is not a bad idea to combine the pros of both and get a perfectly finished look.
So, to answer questions like, "can I use powder foundation as a setting powder, or should I only use liquid foundation?"
The answer is, you can definitely try using both.
Let's first start with the basics — choosing the best liquid and powder foundation according to your skin type. Follow along to learn how to layer foundation.
Steps for Applying Liquid and Powder Foundation Together
Start off by using appropriate toner and primer for your face, so that larger pores are filled before the foundation is applied.
Next, if you are using a cream-to-powder type foundation, apply concealer. For the best coverage, apply concealer after you put on liquid foundation.
Are you wondering how to apply foundation flawlessly? Try using either a foundation brush or a foam sponge for blending liquid foundation either in a swirling motion or by tapping or dabbing. Do not apply loose powder with a makeup sponge.
Apply concealer to required areas and let the foundation dry.
Now, for a smoother finish and extra shine, use powder foundation. If you have oily skin, and you are using liquid foundation in warmer weather, using a powder foundation afterward will soak up extra oils.
Use a good powder brush or a kabuki brush for HD finishing and dust the powder on your face while tapping off the excess powder. Put finishing touches on and voila! You are good to go.
Liquid + Powder = ?
There is no harm in using liquid and powder foundation together.
The difference of opinion mostly generates because of different skin types and the amount of makeup you want to wear. Before you add both into your huge makeup bag, take note that this type of makeup is best suited for people with a combination type of skin.
Have you tried mixing liquid and powder foundation together before?
Other posts on the blog: