The Best Foundations For Large Pores And Acne Scars of 2020
Most foundations are designed to even out skin color, conceal dark spots and hyperpigmentation. Unfortunately, those foundations often don't conceal well. They can actually exaggerate areas of uneven skin texture, making scars, bumps, fine lines, and large pores look even more visible than before. It can be hard to find the best pore minimizing foundation that also fills in the scars that acne has left behind. For those who need a foundation that evens out color and helps cover and smooth skin texture, check out our top picks for best foundations to cover acne scars and large pores in 2020!
Tips for Choosing a Foundation to Cover Scars, Enlarged Pores, and Skin Texture Problems
When looking for a full-coverage pore minimizing foundation, of course we all want a product that smooths out skin texture, giving a natural and comfortable finish that lasts all day.
However, there is an important distinction between makeup for inflamed and irritated skin that is prone to acne, and makeup for skin that has old scars, discolorations and texture problems.
In the first instance, skin is likely to be oily and sensitive, and in the latter it may be dry and developing fine lines.
Choosing a foundation for skin that is irritated, oily, and acne-prone with large pores
Consider mineral makeup. Minerals are great for managing oil without irritating skin. They provide solid, luminous coverage.
Lean toward powders and away from creams. Powder foundations can be a great solution for creating a long-lasting matte finish.
Look for skin-soothing ingredients. Irritated skin needs additional love, so look for calming ingredients like calendula, aloe vera, and oats.
Choosing a foundation for skin that is dry or combination, with flaky texture problems & bumps
Look for light but buildable coverage. Heavy makeup can settle into pores, fine lines, scars, and other surface imperfections. Look for a lightweight foundation that glides over these areas, but also can be layered for more coverage where needed.
Lean toward creams and serums. Keep away from powders that can be drying and take needed moisture away from the skin.
Look for moisturizing ingredients. Particularly if your skin is on the mature side, it's a good idea to look for moisturizing ingredients like shea butter, jojoba or argan oils, and rose extracts. You can also boost and renew skin with gentle exfoliants like alpha hydroxy acids.
Sponsored:Ellis James Designs

"This bag is amazing quality and even padded to protect your valuables inside! (Think about it…no more cracked bronzer!)" ⭐️⭐️⭐️⭐️⭐️ - Kaitlyn



FIND OUT MORE
GET 50% OFF

Our List Of The Best High-Coverage Foundations for Large Pores, Acne Scars, and Textured Skin
The Bella Terra 3-in-1 BB Cream moisturizes, conceals, and fights signs of aging.
This BB cream conceals blemishes, scars, dark circles, and fine lines. It gives a lightweight, natural coverage that lasts all day, and is easily buildable for your desired coverage. Its formula is flexible for daily changes in your skin's needs. Even better, the all-natural formula is made from pure, high-quality mica, zinc, and magnesium.
This BB cream is natural and mineral-based, with no parabens, preservatives, alcohol, talc, or chemicals, making it perfect for sensitive skin. The minerals in this product not only provide SPF 15 protection against UVA and UVB rays, but also improve your complexion over time.
The nourishing cream helps to reduce dryness, inflammation, and irritation, helping to calm and smooth dry, irritated, acne-prone skin from the inside out.
Product Highlights
Natural, mineral-based formula that improves skin
Provides lightweight, effective, long-lasting coverage
Buildable for custom coverage, can be combined with other skin care products
Conceals everything from bumps and scars to fine lines and large pores
Only 6 shades available
Pump can be tricky, so it may be hard to take just a drop at a time. May dispense too much product at once – be careful!
The Bella Terra BB Cream is fantastic for those who have fluctuating skin needs. The lightweight foundation can provide nearly invisible coverage when needed, or be layered for more coverage on demand. It's a great way to actually heal skin while covering problems.
It may be too light for those who need or want a lot of coverage, and the mineral formula works best for medium to oily skin. This is one of the options for the best foundation for oily skin and large pores, or the best makeup for oily skin and acne scars.
CHECK LATEST PRICE ON AMAZON
This is our pick for best liquid foundation for large pores.
Maybelline Fit Me Matte + Poreless Liquid Foundation is designed for those with normal-to-oily skin who want to refine pores and get a smooth, seamless finish. It has micro-powders that not only smooth over pores, but also control shine and deflect light for a blurred, airbrushed finish.
This is a non-comedogenic foundation. It is also non-allergenic, and dermatologist-tested. Getting this kind of medium-weight, pore-concealing smooth coverage from a drugstore brand foundation. Great for those on a budget.
It also comes in more than 40 shades for a perfect match.
Product Highlights
Smooth, buildable, blendable coverage
Comes in over 40 shades for the perfect match
Conceals large pores without heaviness or caking
Great for combination skin
Affordable
Not suited for dry skin
Works best with a primer
Maybelline Fit Me Matte + Poreless Liquid Foundation is a great option for those with combination or oily skin. It works best if you want to conceal minor texture problems and large pores without a heavy, full coverage.
It may not cover more prominent scars and wrinkles, but it doesn't exaggerate them, and we love the huge range of shades.
(RELATED: Best under eye primer for mature skin)
The Dermablend Intense Powder High Coverage Foundation has high-performance pigments with buildable coverage that lasts all day. This powder foundation evens out skin tone, covers redness, and can even provide acne scars coverage, along with rosacea and tough skin surface problems.
Formulated for oily and combination skin, it's also a safe foundation for sensitive and acne-prone skin. This vegan product has no animal ingredients or byproducts, and contains no parabens, sulfates, phthalates, or triclosan.
It is dermatologist and allergy tested, fragrance and oil free, and comes in 15 shades for a good match.
Product Highlights
Excellent, long-lasting coverage
Can cover both color and texture challenged skin
Buildable and blends easily from sheer and light to stronger coverage
Safe for skin that is sensitive or acne-prone
Not for dry skin
This powder foundation is best for combination and oily skin, and is a great solution for people with problem areas. For light coverage, it can be dusted on with a brush or a sponge for more coverage and excellent blendability.
The Dermablend Intense Powder is a great choice to give a smooth, matte finish for oily skin. However, powder foundations are usually not a great choice for dry or aging skin, where they can settle into fine lines.
(If you have mature skin, check out our post on best foundations for aging skin and foundation that doesn't settle into fine lines instead.)
Many people who have acne-prone skin have already heard about the amazing benefits of Amazonian clay. Tarte now gives you that healing clay in a full-coverage foundation that lasts all day. It provides fast full coverage that doesn't cake or crease, and leaves you with a natural, healthy matte finish for up to 12 hours.
The oil-free vegan formula has no parabens, mineral oil, phthalates, triclosan, or sodium lauryl sulfate, and it is gluten-free. The natural mineral pigments give great, natural coverage, while vitamin E and Amazonian clay actually improve your skin over time.
The Tarte Amazonian Clay Foundation is available in 40 shades, and each bottle contains a generous 1.7 ounces of product.
Product Highlights
Amazonian clay helps to heal and balance the skin over time
Medium coverage that is easily buildable
Lasts all day long
Suitable for all skin types
Comes in 40 diverse shades
More product in the bottle than in most foundations

The Tarte Amazonian Clay Foundation  probably shouldn't be called "full coverage" because people who are accustomed to full coverage foundations often find that they need to build it a little bit.
It's a mousse-like foundation with medium-to-full coverage that really does last all day.
This foundation is great for oily, acne-prone skin, but also helps to heal and protect dry and combination skin. Amazonian clay will help soothe, balance, and calm skin over time, so this foundation helps your skin. It won't exaggerate fine lines and wrinkles.
A lot of foundations designed to cover large pores and acne scars aren't suitable for dry, aging skin, but BaeBlu's Lux Liquid Foundation + Primer is a foundation that can do everything. It provides even, buildable coverage that smooths fine lines and enlarged pores. It also balances moisture and calms redness.
The botanical formula is anti-aging, with aloe, shea butter, vitamin E, and healing herbs that help to restore skin's healthy, youthful glow. Even better, this foundation is all-natural and organic, with no artificial colors, preservatives, fragrances, or dyes.
It is vegan, non-GMO, cruelty-free, and made in the USA. It comes in 12 shades, and is suitable for all skin types.
Product Highlights
Natural, organic, plant-based foundation with no dangerous or synthetic ingredients
Healthy oils and botanicals heal, soothe, and protect skin
Smooth, medium weight, buildable coverage
Good for all skin types, particularly dry or aging skin
Helps to reduce breakouts
Only available in 12 shades
This all-natural, botanical foundation gives great, blendable coverage that improves skin over time. It's great for all skin types, but people who need or want heavy coverage will want to build this foundation or pair it with a concealer.
While it only comes in 12 shades, we love that BaeBlu sells 3-color sample packs, so you can easily find your perfect match before buying a whole bottle.
Of the products in this post, this is the best foundation for dry textured skin!
Lightweight with amazing full coverage. This foundation blends very well and can even double as a concealer.
With its matte finish, this is a great option for oily and combination skin. Usually matte foundations make textured skin appear worse, but this has a natural finish that will lay smoothly on the surface of your skin.
Dermablend Smooth Liquid Camo will also give you great full coverage without breaking you out.
Product Highlights
Lightweight with SPF
A little goes a long way
Natural finish
Full coverage
Packaging not ideal for travel so watch out if you want to bring it with you on a plane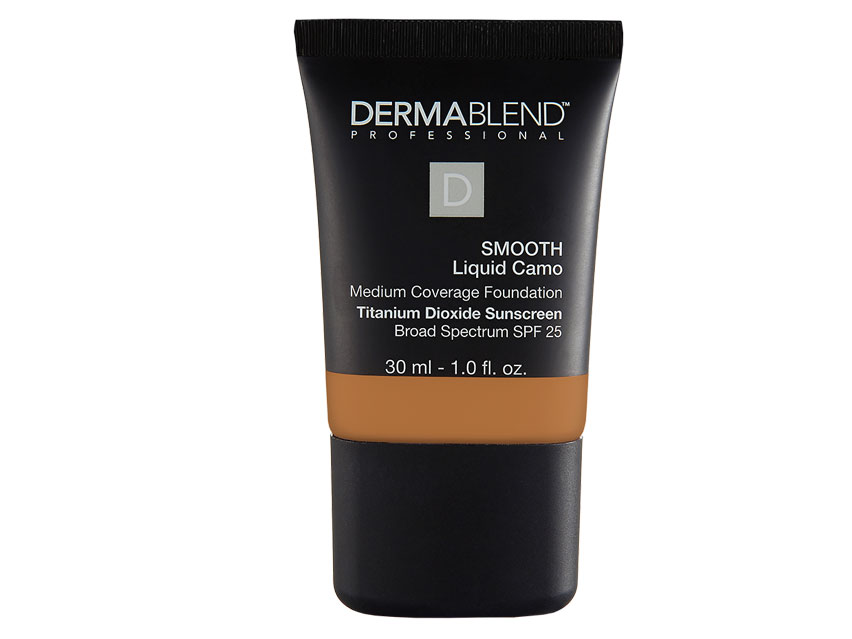 Dermablend Smooth Liquid Camo Foundation – Cafe 65N
Free US Shipping on Lovelyskin
This has been a known pick for women who have discoloration issues and rosacea.
Lasts all day without moving while still being breathable.
This foundation has 15 shades to choose from. The ultimate hydrating, gentle and medium coverage foundation with broad-spectrum SPF 25.
Sounds good to be true but totally is!
CHECK LATEST PRICE ON LOVELYSKIN
Best Pore Minimizing Foundation – Jane Iredale Beyond Matte
A great option for best pore refining foundation is this beauty by Jane Iredale.
This is actually a three-in-one product: it's a primer, concealer, and foundation.
Although it's called "beyond matte" it is actually semi-matte, lightweight and long-wearing. It provides medium-to-full, buildable coverage.
The Beyond Matte foundation is a great product that minimizes the appearance of pores and creates the look of smooth, even skin.
Best of all, it's suitable for all skin types and totally vegan and cruelty-free.
Clinically tested, dermatologist tested, allergy tested, sensitization tested, and non comedogenic.
Product Highlights
Vegan and cruelty free
Buildable coverage
Proven to be a pore-minimizing foundation
Luxurious-feeling finish
No SPF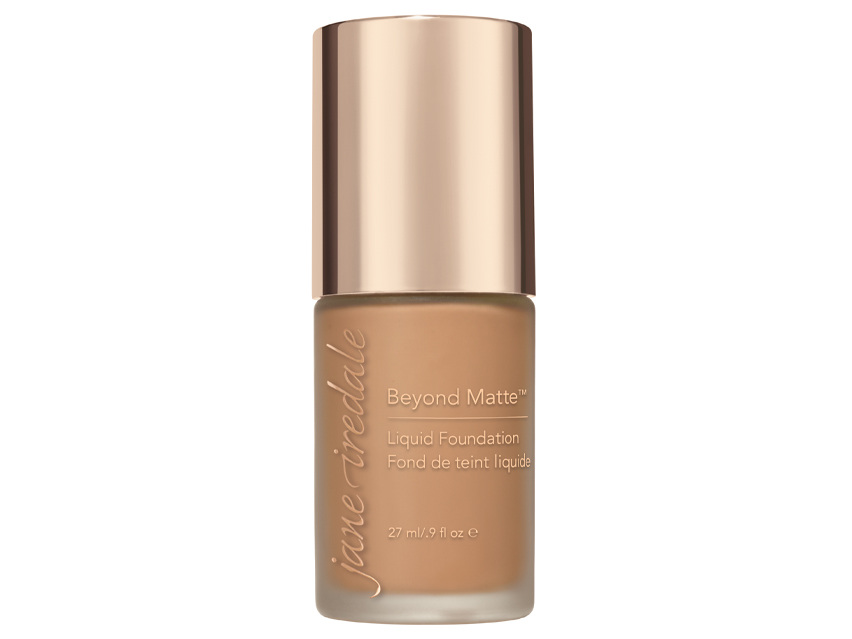 jane iredale Beyond Matte Liquid Foundation
Free US Shipping on Lovelyskin
Jane Iredale is a beloved brand with other lines of foundation as well. Older women love this foundation because it doesn't emphasize wrinkles and gets enough covered with just a small amount.
Comes in 18 shades, beautiful on the skin.
CHECK LATEST PRICE ON LOVELYSKIN
Recommendations from Women with Textured Skin
Tried and Tested Foundations
Jennifer has experience in using and applying various kinds of foundations.
"Although I'm not a make-up artist, I do have textured skin. A few products that have been wonderful for me.

MAC Studio Fix Fluid Foundation SPF15 is the product that I'm currently using. With very little effort you can cover your large pores and even out your skin tone. And the best part is that its long-lasting, less oily and reduces the pores.

The only con that I can think of is that it's not waterproof.

Tarte Amazonian Clay is another great product that I sometimes switch to. Apart from having similar features as the above one, this one is rich in Vitamin E that is good for our skin.

The main problem with this foundation is that its quite heavy and sweaty for warm weather."
Try Airbrush Makeup
Amy recommends airbrush makeup instead of regular foundation.
"I have experienced textured skin since my early teenage years, including large pores and moderate acne. Airbrush makeup looks natural and never 'caked on'. It is also a more hygienic application than using brushes or sponges, which can aggravate acne.

Since testing the airbrush makeup kits, I have not used regular foundation once. I far prefer the light, breathable feel on my skin, compared to the thick, sticky feeling of regular foundation and the comparison for photographs and when filming videos, as well as in person is outstanding. I thoroughly recommend that others with textured skin give airbrush make up a go!"
For products she loves, Amy mentions, "I am also a fan of the ELEMIS Pro-Collagen Marine Cream."
Smooth Makeup Over Large Pores
Licensed esthetician Stephanie Ivonne gives some tips on how to make your makeup look natural and smooth on large pores:
"When it comes to disguising the appearance of larger pores, it's highly recommended to have these three basic products in the proper order: Primer, Foundation and Concealer.

The application isn't complete unless it's properly blended with either a makeup brush, beauty sponge or your fingers. I suggest using your fingers to gentle pat the concealer into the skin using your body's natural oils for a more natural finish."
As for products to use for visible pores, she recommends the following:
"Primer. This is not only a must have to keep your makeup on you all day but a good primer can smooth out the skin, filling out the pores leaving you with a clean finish.

The Urban Decay B6 Vitamin Infused Complexion Prep Spray is not your typical primer. This spray reduces redness, absorbs oil and minimizes the appearance of pores. Great for those with acne prone skin, this vitamin E primer works for all skin types leaving you with brighter, softer looking skin.

Foundation. A good quality foundation especially with medium to full coverage can disguise large pores, hyperpigmentation and pesky blemishes. Those foundations with an airbrush finish I found to have the best results whether you have large pores or not. The Huda Beauty #FauxFilter Foundationis a full coverage foundation. It creates a flawless finish for everyone as there are over 30 shades to match your individual skin tone.

Concealer. Whether used to conceal imperfections or larger pores, a good concealer can also be used to highlight and contour the skin. The formula of Benefit Cosmetics The POREfessional Face Primer is lightweight and silky, touching up problem areas and mattifying shine throughout the day."
Tips for Textured Skin:
Stop over-exfoliating. Dry texture can be caused by many things, and over-exfoliation is one of them. Switch to a gentle chemical exfoliator.
Take proper care of your skin. Having textured skin can be the result of various factors like bad eating habits, harsh weather and neglecting your skin.
Use SPF. Not using sun protection can lead to various skin issues, like larger pores, hyper-pigmentation, and reddened dry skin.
Pay attention to skin prep. You can use almost any foundation, but if your skin prep game isn't on point, no foundation is going to look its best. Using skin prep products help smooth surfaces and allow the foundation to look its best. Skin prep also helps hydrate and plump and allows foundation to lay on the skin perfectly.
Professional Laser Treatments. Lasers can help with all kinds of skin texture issues. Acne scars and wrinkles can become so much better with a few simple laser treatments. You can spend hundreds of dollars on products that won't give you the results you really want, or spend the money on lasers and get the results that will make you extremely happy.
Foundations to Cover Acne Scars and Large Pores: FAQs on Textured Skin
Let's get ourselves more familiar with this skin type and what having large pores and acne scars entails.
What is textured skin?
Textured skin pertains to the condition of the skin surface.
This can either mean the surface is not even due to dryness, or the skin isn't even due to acne scars and large pores.
Peeling skin gives your face an uneven texture, which makes it hard for products to adhere. Exfoliation can help manage this, but be careful as incorrect exfoliation can also give you more textured skin.
Pimple scars or any pockmarking or scarring from facial injuries also create skin texture.
Large pores are genetic and also give the skin on your face a textured appearance.
There are also ongoing skin conditions (such as rosacea or acne) that can give your skin uneven texture.
How do I know if I have textured skin?
Textured skin is actually more normal than we think. Media and photo-altering programs sell us the idea that textured skin is unnatural, but pretty much everyone has texture on their skin.
You can tell by the feel if your skin, and also the appearance, if your skin is textured.
How do I apply foundation on textured skin?
It helps to use a good primer as a base so that foundation and other makeup products can lie flatter and adhere better to the skin.
The best ways to apply foundation on textured skin are:
by stippling, using a good stippling brush
using a good dense foundation brush to buff foundation into the nooks and crannies of your face
airbrushing, but this usually needs a professional makeup artist
What is the best foundation for large pores? What kind of foundation should I use for large pores?
You can't actually make large pores disappear, unless you undergo a professional dermatological procedure. Not to mention your skin won't survive with "closed pores". However, large pores can be unpleasant to look at when they're too visible.
You can choose any of the picks from this post for foundation to use for large pores.
However, it's important to remember that technique is very important for hiding large pores. Not just the way you apply the foundation, but also the amount of foundation you put on your face.
What's the best makeup for acne scars and large pores?
If you're looking for the best foundation for bad skin texture, you've definitely come to the right place. In this post you'll be able to find some of the best foundations for acne scars and large pores, so feel free to try out any of the options we've reviewed!
Recap: The best foundations to cover acne scars and large pores
And there you have it, our picks for best foundations to cover acne scars and large pores. Use any one of them to cover your acne scars and minimize your large pores.
What do you think are the best foundations to cover acne scars and large pores?