What are the essential makeup brushes?
M
ore numerous than fine dining cutlery and more complicated than a Rubik's cube, makeup brushes come in a variety of different shapes and sizes. It can be confusing enough just to know which one you should use for which purpose, but hopefully this handy guide can help shine some light on the matter.

You can also check out our more thorough guide on what makeup brushes to use for what.
1. Angled Brush
The angled edge of this brush makes it perfect for precision work, especially around the eyes. Use it to fill in sparse brows or draw wings from your eyeliner (although an eyeliner brush is preferable for this latter job).
Buy on Amazon
Antonym Small Angled Brush #13
Free US Shipping on Lovelyskin
2. Blender Brush
Blender or blending brushes are perfect for evening out harsh lines and combining multiple shades of eye shadow together in one.
Its soft and fluffy bristles are ideal when a delicate touch is needed.
Real Techniques Blending Brush Set
Sigma Beauty E25 Blending Brush
Free US shipping on Lovelyskin
3. Bronzer Brush
With its big round head and soft, fine bristles, a bronzer brush allows you to easily achieve an even distribution over the entire surface of application. Ideal for imitating the sun-kissed chic of post-holiday tan.
Real Techniques Bronzer Brush
Shop on Julep
4. Concealer Brush
Concealer brushes do exactly what the name suggests – they conceal unwanted spots and other blemishes.
Their fine tip allows you pinpoint precision, while their rounded edges lets you get into nooks and crannies around the eyes and nose.
Real Techniques Concealer Brush
Sigma Beauty F70 Concealer Brush
Free US Shipping on Lovelyskin
5. Contour Brush
With slightly stiffer bristles and a more angled tip than other brushes, contour brushes are specifically designed to help you sculpt and shape the contours of your face.
As such, they're nigh-on irreplaceable when it comes to tackling this kind of makeup application, even if many people do try to substitute with an inferior alternative.
Buy on Amazon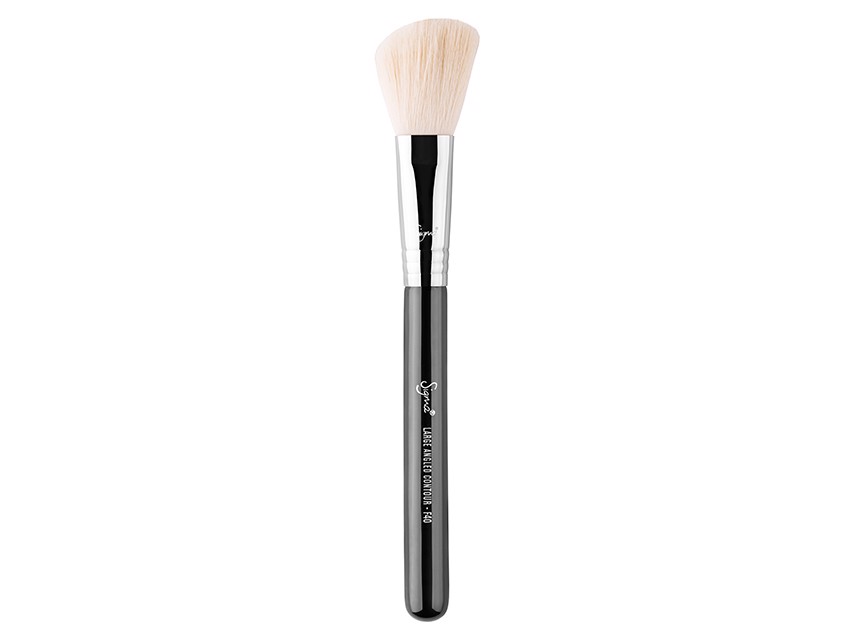 Sigma Beauty F40 Large Angled Contour Brush
Free US Shipping on Lovelyskin
6. Eyeliner Brush
With a tip that's nearly as fine as a needlepoint, eyeliner brushes are perfect for creating intricate works of art around the eyes. Don't try to replicate those impressive winged eyeliners you've seen on social media with anything else!
Sigma Beauty E11 Eyeliner Brush
Free US Shipping on Lovelyskin
Looking for good eyeliner brands? Check out our post on oily skin friendly eyeliners.
7. Eye Shadow Brush
Regardless of whether you prefer a cream or a powder eye shadow, you'll need a good brush to ensure you pick up a sufficient amount of the product and minimize any spillage between the tub and your face.
Ecotools Multi Eyeshadow Brushes
Buy on Amazon
Eyeshadow Brush
8. Foundation Brush
Designed to facilitate the easy and even application of a base foundation layer to your face, a top-quality foundation brush should let you work the product into your skin and achieve the most natural aesthetic possible.
You can get affordable foundation brushes, too!
Start from the center of your face and work outwards to avoid nasty blotches or lines at the edges.
Real Techniques Kabuki Foundation Brush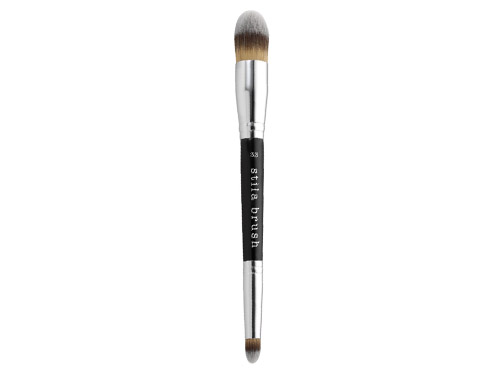 stila #33 One Step Complexion Brush
Free US Shipping on Lovelyskin
For more foundation tool options, check out our posts:
9. Highlighter Brush
The bristles on a highlight fan brush are more sparsely distributed to allow you to pick up a smaller amount of product, thus resulting in a subtler application to pick out cheekbones or other facial features.
It's best to tread lightly when dipping in to the product to avoid over application.
For more tips on how to apply highlighter, click the link!
Wet n Wild Highlighter Fan Brush
Buy on Amazon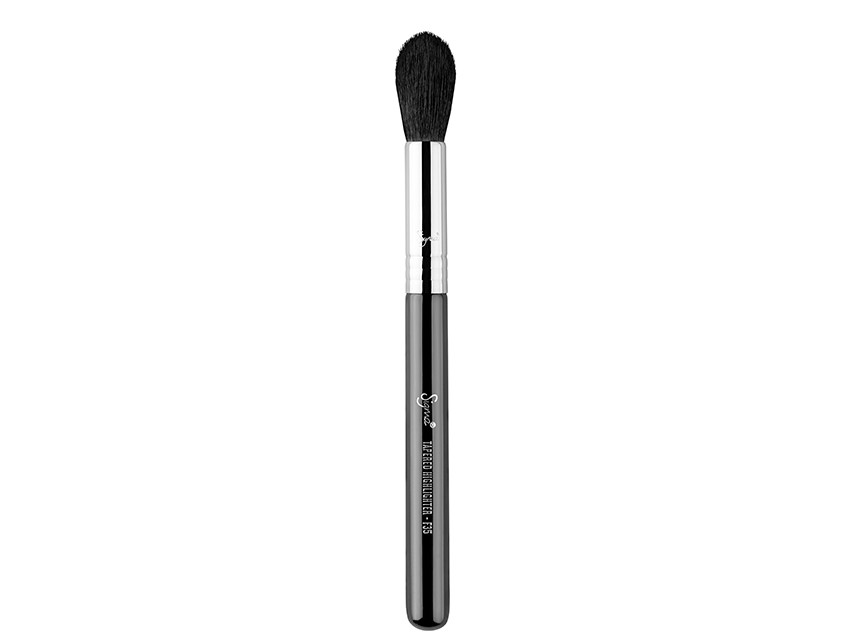 Sigma Beauty F35 Tapered Highlighter Brush
Free US Shipping on LovelySkin
10. Mascara Brush
All mascaras come equipped with a brush, but to achieve real precision, it's a good idea to invest in a purpose-built mascara brush capable of curling, defining, lengthening and volumizing your lashes as the situation warrants.
Go for a 2-in-1 eyebrow and eyelash brush like the one below!
Buy on Amazon
11. Powder Brush
A good powder brush will have soft, long and fluffy bristles that work to diffuse loose powder fragments from the surface of your skin, without upsetting any of the base foundation or other makeup already on it.
Buy on Amazon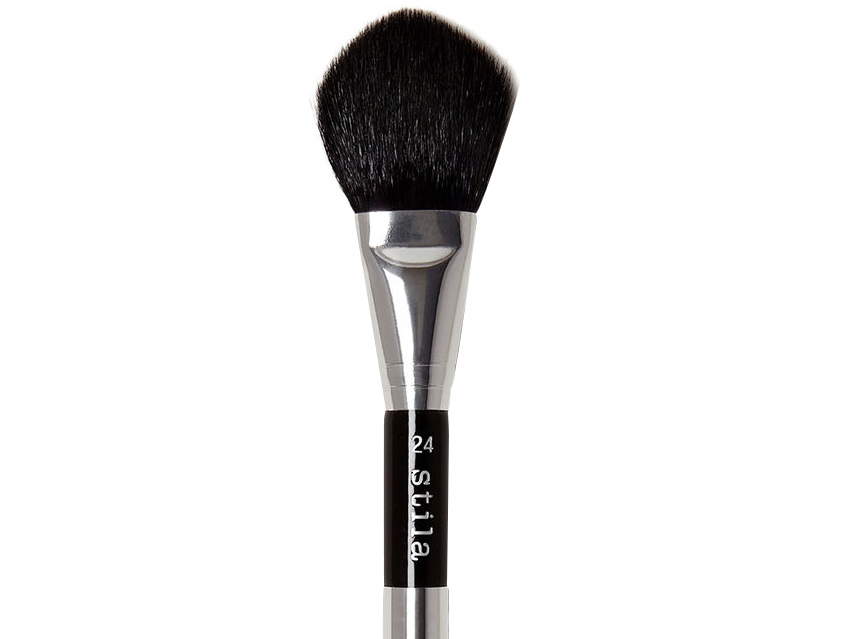 stila #24 Double Ended Illuminating Powder Brush
Free US Shipping on Lovelyskin
Learn more about powder brushes through the link!
12. Smudger Brush
A smudger brush is the supreme choice when you want to give your eyes a smoky and sexy appeal.
Lightly drawing the brush across eyelashes which have already been lined will gently disturb the product, resulting in an irresistibly sultry look.
Buy on Amazon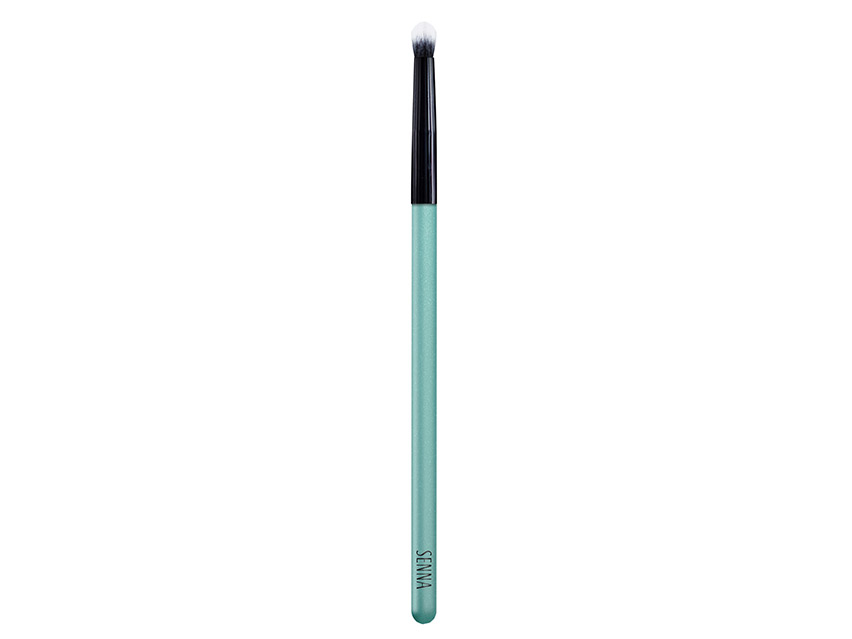 SENNA Rondo Smudger 48 Pro Makeup Brush
Free US Shipping on Lovelyskin
How many makeup brushes do you really need?
It actually depends on your makeup routine. The more products go onto your face, the more you need tools.
Generally, you need a base brush (foundation and concealer), a few eye brushes (eye shadow and eye liner), and a cheek and contour brush (blush and bronzer and highlighter brush).
Lip brushes can be optional and eyebrow brushes can be found on the product you're using.
Check out our post on how do I choose makeup brushes.
Organize Your Accessories
With so many makeup brushes to keep track of, it can be difficult to know where to put them all… and to remember where they've gone the next time you come to use them.
Avoid the ordeal by keeping your makeup accessories organized with one of our large cosmetic bags, specifically designed to make sure your powders, blushers and brushes don't escape on you. What are you waiting for? Check out our range here.
What are your essential brushes?